Professional & Reliable Expert Painters Servicing
Oshawa
Providing quality painting services for homes & businesses in Oshawa and other surrounding cities in the GTA like Whitby, Brooklin, and Courtice!
We strive at 123 Paint to offer competitive pricing, whilst also guaranteeing our residential and commercial clients a quality and professional paint job. Our painters have years of experience and can tackle a number of home and commercial paint detailing and renovation work in Oshawa and the region of Durham.
Home & business painting services we offer:
And more! Call to find out how we can still help even if your service isn't on the list!
While doing the repairs and detailing around your own home or office yourself may seem cost-effective, the need to remedy the errors often riddled in DIY "repairs" after-the-fact can end up costing you more in the long-run. When you want the job done right the first time, it's often best to just leave it to the professionals – and the proper professionals in Oshawa at that!
Home & office repairs are usually best left with the professionals, so they can do it right the first time!
123 Paint guarantees satisfaction to each of our clients – we care about the work we do, and never want to leave a customer of ours unhappy with the work we've provided them. We keep open communication lines and make ourselves easy to reach for all our customers via phone or email! If you want to hire painters you can trust to get the job done on your budget and timeline, then you should hire the experts at 123 Paint!
Learn more about some of the painting services we offer below!
Most residences in Oshawa and around the Greater Toronto Area (GTA) are standardly built with textured or popcorn ceilings despite its increasingly unappealing look to the majority of homeowners in Southern Ontario. When you uncover the reason as to why this ceiling type is still so prominent in modern built homes, it can be a little shocking! 
The main purpose of stucco or popcorn ceilings for builders is to cut their own time & costs. Textured surfaces are perfect for hiding mistakes in the installation, sanding, and levelling of a ceiling. Rather than take the time and resources to tediously yet properly install a ceiling, builders will often cover the imperfections with stucco and textures instead  Unfortunately, in the end the homeowners are left with an outdated and less than ideal look to their home.
Call the skilled local contractors at 123 Paint to help you with your popcorn ceiling removal!
 We strive to provide quality & mess-free projects to all our clients, and we also offer free on-site consultations and estimates! Leave the messy business in our hands, and you'll be left with the home of your dreams in Oshawa in no time!
Refreshing the interior paint of a business can do wonders for the aesthetic appearance of the space as well as the overall impression it gives to clientele. Customers entering a beautiful space feel instantly more welcomed, safe, and happy to be there. This holds true for a multitude of businesses, including retail stores, restaurants, clinics, offices, salons & parlours, and the list goes on! That is why most, if not all, businesses can benefit from hiring a professional painter!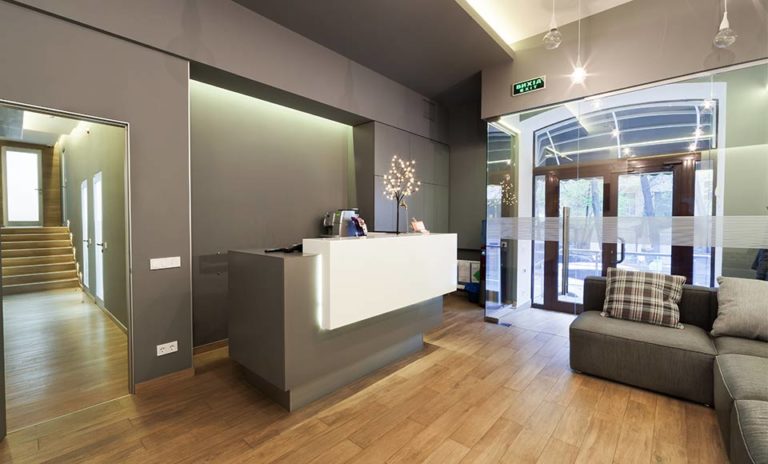 Brightening up your office space with new & cleanly painted walls may just be the thing you and your employees need for a fresh new start and outlook in business! Along with this, a brand new & cleanly done interior space instantly gives a great first impression of your business to new customers, as well as establishes continued loyalty in existing ones!
Call 123 Paint to get started! We can book your appointment for a free on-site or detailed over-the-phone consultation as well as a quote to give you a renewed and uplifted commercial space today! Just give us a call at (289) 675-1112 or fill out the contact form at the bottom of the page!
See the interactive map below for all 123 Paint service location areas in Southern Ontario!